A High School Dairy Curriculum Preparing the Next Generation of Dairy Producers and Professionals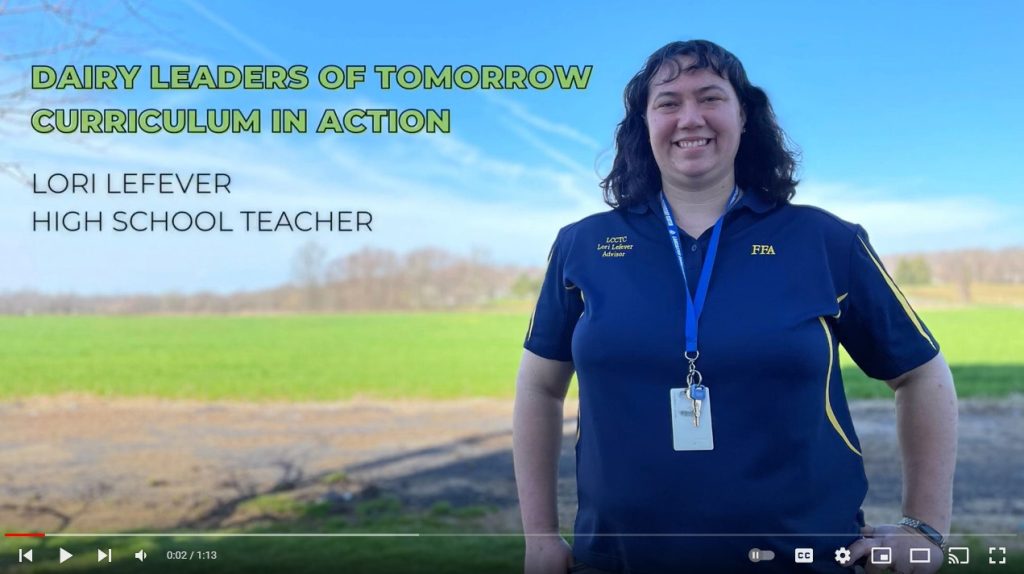 Dairy Leaders of Tomorrow is a program designed specifically to prepare high school students to work in the dairy industry. A three-part model program, Dairy Leaders of Tomorrow offers classroom instruction, on-farm experiences and scholarship opportunities.
Specifically, the Dairy Leaders of Tomorrow curriculum includes four main courses:
Introduction to Dairy
Introduction to Dairy Herd Management
Introduction to Dairy Business Management
Introduction to Dairy Technologies
Lesson plans and associated resources can be accessed online and downloaded once educators or students complete the DLT registration.
Registered students must complete the Introduction to Dairy course first, achieving at least 80% on each quiz and the end exam. After completing the first course, educators and students can decide what order to complete the other courses.
Industry recognized certificates in both Dairy Herd Management and Dairy Business Management are available to students who receive a minimum of 80% on certificate examinations.
Graduating seniors who have been awarded certificates during their high school career are eligible to apply for $3,000 scholarships to assist in their undergraduate endeavors. Educators who have had at least one student achieve certificates can apply for scholarships for professional development relevant to the dairy industry, agricultural education, or related fields.
Each academic year at least two educational experiences are held throughout Pennsylvania. Educational experiences include dairy farm tours and exploration experiences. These opportunities are available to all students engaged in the Dairy Leaders of Tomorrow program or interested in careers within the dairy industry.
Any costs associated with the Dairy Leaders of Tomorrow program are generously offset through contributions made to the Center for Dairy Excellence Foundation of Pennsylvania. All curriculum content of Dairy Leaders of Tomorrow is copy written by the Center for Dairy Excellence Foundation of Pennsylvania.
To learn more about the Center for Dairy Excellence Foundation and how to contribute to the Foundation, click here.
For more information about the DLT program, please Michelle Shearer at 570-768-8316 or mshearer@centerfordairyexcellence.org.